Owner of Manchester start-up PropCall bolsters team by 450% as it focuses on delivering out-of-hours support for the Property Industry
PropCall is an innovative out-of-hours, weekend and weekday service, made of property managers to support the Property Industry outside of the standard 9-5.
Aaron Mcwilliam, the Director and driving force behind PropCall, created the business after finding a gap in the market; a need for skilled Property Managers that assist with out-of-hours and weekend calls or support businesses during the day.
PropCall, which is based in Stretford, Manchester, has grown from six staff just 12 months ago, to bolstering its workforce by 450%, now having 28 valued employees at the firm.
Aaron, 31, from Wythenshawe, came from a background in sales and business development managerial roles, as well as commercial operations and telecoms within various industries.
Having noticed there was a desperate need for support within the Property Industry, Aaron began putting a business plan together, which ultimately, he wanted to execute in Australia after deciding to move overseas for a year with his wife.
The pandemic took hold and Aaron and his wife were forced to remain in Manchester and the entrepreneur is so glad that he did!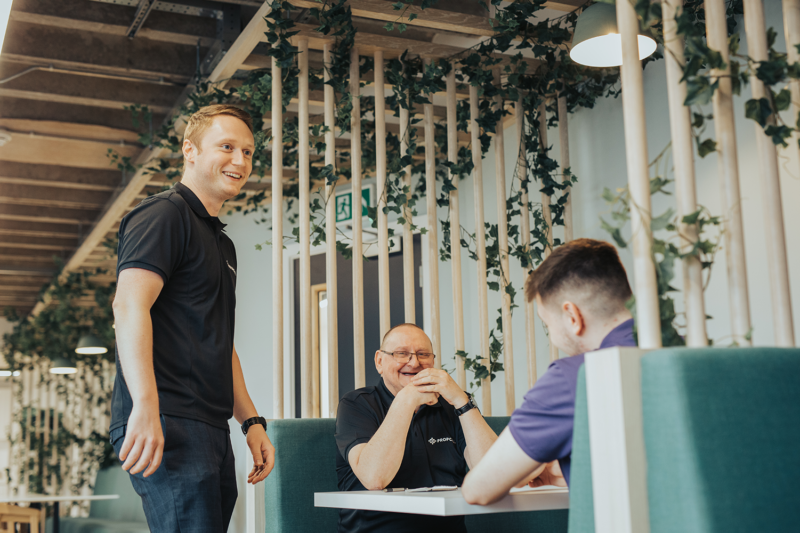 He explained: "PropCall was founded to relieve the pressure after hours and provide support as soon as people leave the office. I recognised a huge gap in the market as before PropCall, there really wasn't a team of experienced Property Managers in the UK that companies could outsource to, or support their staff with so that they can properly switch off of an evening and at weekends.
"The pandemic has pioneered a new work/life balance. Employees want their evenings to themselves. They want to finish on a Friday and enjoy their weekends. Whilst some industries were quieter throughout the pandemic, the property industry continued to boom meaning that many people felt overworked and overwhelmed. But PropCall is built on a team of Property Managers who can deal with handling maintenance requests from their tenants, aiming to resolve or manage to prevent property damage and health & safety risks, handling customer service enquiries and capturing any sales and lettings lead details, while also sending contractors out to emergency situations where necessary so that we can deliver an unrivalled service to our clients plus much more. We can effectively support those within the Property Industry to answer calls, organise maintenance requests and deal with any issues out-of-hours, weekends or as an extra support during the day too.
"We've grown exponentially over the last 12 months and now have an incredible team of 28 which is made up of such a diverse workforce in terms of age, culture and gender. We have ambitious growth plans for the next year and beyond but our main focus will be on continuing to offer the best service, as well as reinvestment into technology and our people."
To check this feature out on Business Cheshire, follow this LINK.
Credit and Publication go to Georgia from Propel PR
Would you like more info?
If you'd like to discuss how we can deliver measurable value to your property management company, please get in touch.
Let's have a chat